Automation
Easily manage and control a variety of features from your pool, spa and water features including heaters, sanitization, lighting and more-right from the palm of your hand.
Pool Heating
Add a gas heater or an electric heat pump to your pool and never let the weather control your swimming pool and spa enjoyment again. Pool heaters provide the ultimate in swimming comfort letting you choose the perfect temperature all year round. If quick heating is your priority, we recommend using a gas heater. If efficiency and all year swimming is more your speed, a Heat pump is the most energy efficient solution to heat your pool in our warm climate.
Lighting
Upgrade your white pool lights to color changing LED lighting for and create a mood changing outdoor ambiance great for parties or dining poolside.
Salt Systems
Salt systems deliver silky smooth, naturally sanitized water that won't irritate eyes or fade fabrics. By providing automatic salt water conversion with a continuous supply of chlorine, it's now easier than ever to create the ultimate salt water pool.
Pumps
From DOE compliant single-speed pumps to energy-efficient variable-speed pumps, we install a variety of pumps from the top manufacturers that will deliver powerful, reliable performance.
Filters
Proper water filtration is the key component to proper equipment function. Is your old filter too small to handle the flow needs of your variable speed pump, spa or water features? Let us install a new complete cartridge filter for easy maintenance and cleaning with the bonus of clearer water and better water chemistry.
Equipment Repair
We not only repair existing equipment but can also suggest changes to your equipment to make your pool efficient. Need your system replumbed, moved or just updated? Give us a call.
Leak Detection & Repair
Does your pool seem to be losing more water than usual? More than ¼" of loss daily may indicate that you have a leak. We can find your leak and propose a plan to repair the source.
Request a Callback
We're serious about performance and customer service. We also have years of professional experience working with all types of brands and applications.
Fully Qualified & Insured
Every member on our team is qualified to perform repairs and service calls.
We're already working in your neighborhood. Our service area spans all of Broward County and into Central Palm Beach County. View service coverage map.
Our Service Coverage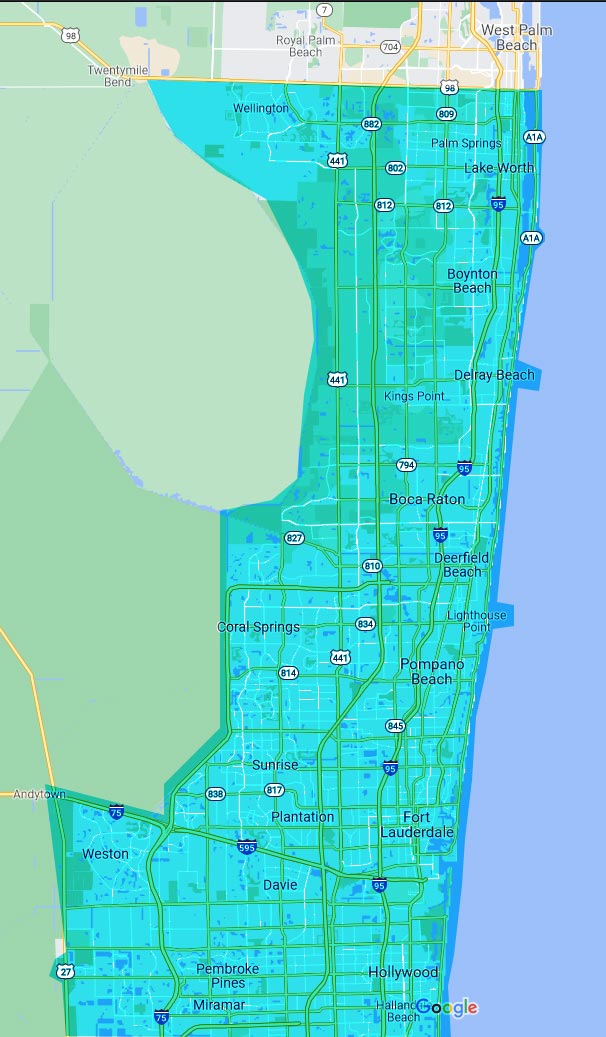 Call Us Today
We are here for all of your pool needs!